Announcements
ChemE grads to watch!
Oluwatobi Edun (ChemE 1T7 + PEY), Natalia Mykhaylova(ChemE PhD 1T8) and Elizabeth White (ChemE 1T7+PEY) have made the Faculty's 2018 "15 Grads to Watch" list. Click here to find out what lies ahead for each of them.
Job opportunity
Evoke Ltd. is looking for a talented PhD to contribute to its early stage projects focusing on the development of high performance biomaterials. Evoco Ltd is a start-up company in partnership with the Stewart Group Ltd., which markets and sells its renewable technology for the production of high-performance biomaterials including renewable polyurethanes with a greater than 50% bio-content. The Stewart Group Ltd is a 100-year-old privately held company with a global manufacturing presence in developing technologies and manufacturing of various industrial and consumer-based products. For more details about the position and application process, click here.
$1 million Women In Cleantech Challenge from MaRS and NRCan
MaRS Discovery District and Natural Resources Canada are calling all Canadian women working at the intersection of cleantech and science, technology, engineering and math (STEM) to apply now to the Women in Cleantech Challenge. Develop your technology. Build a business. Win $1 million! The Women In Cleantech Challenge is looking for five brilliant female innovators to share their world-changing environmental ideas. Learn more.
LAST WEEKEND to submit your CSChE 2018 abstracts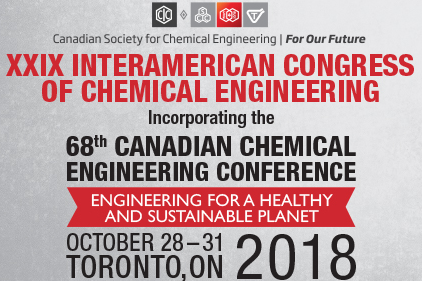 The deadline for CSChE 2018 abstracts has been extended to Monday, June 18! Submit an abstract to be considered for an oral or poster presentation. Graduate students can also submit an Elevator Pitch or Business Pitch abstract for the 3-Minute Pitch Competition. Click here to submit.
Additive Manufacturing Education Symposium
Hosted by the Toronto Institute of Advanced Manufacturing (TIAM), the Additive Manufacturing Education Symposium on Tuesday, June 19 from 8:30am to 3:30pm in BA1210 will foster discussion around the opportunities and challenges provided by Advanced Manufacturing. The symposium will also bring together a diverse panel of speakers who will discuss curriculum considerations, as well provide a glimpse into specific vertical applications. For more info and to register, click here.
Plunge a Prof on Wed, Jun 20!

As part of the Faculty & Staff Giving Campaign, five professors (including our very own Professor/Chair Grant Allen) have agreed to take the plunge on Wednesday, June 20. The event will run fram from 11am to 3pm at Willcocks Common. Professor Allen's dunking will run from 11:30am to 12pm. All staff and faculty are welcome to attend but must register by TODAY at uoft.me/plungeaprof-dunk. Light refreshments will be served.
MIE Graduate Research Symposium
On Wednesday, June 27 in the Great Hall of Hart House, MIE will be hosting its Graduate Research Symposium. This event is open to all students, faculty, staff and alumni across U of T, and Professor John N. Tsitsiklis (a renowned operations research expert at MIT) will be giving the keynote lecture. For more info and to register, click here.