Announcements
Alumnus receives large government grant
Phycus Biotechnologies Inc. – founded by Vik Pandit, a ChemE PhD alumnus who was supervised by Prof. Krishna Mahadevan – will receive a grant totaling $375,000 through the Low Carbon Innovation Fund. The grant will help the company develop its innovative technology platform for producing biobased chemicals from CO2. The University of Toronto's BioZone will collaborate on the project. Read more.
DEADLINE EXTENDED: CSChE 2018 abstracts due on Mon, Jun 18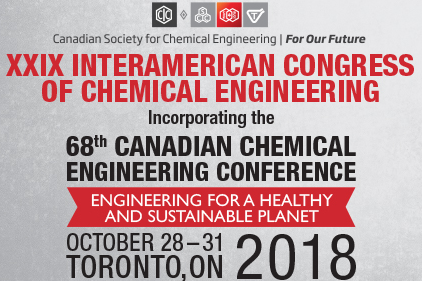 The deadline for CSChE 2018 abstracts has been extended to Monday, June 18! Submit an abstract to be considered for an oral or poster presentation. Graduate students can also submit an Elevator Pitch or Business Pitch abstract for the 3-Minute Pitch Competition. Click here to submit.
Special talk by Prof. Frank Gu on Wed, May 23
As part of the 2018 Green Chemistry Initiative (GCI) Symposium, Prof. Frank Gu from the University of Waterloo will be giving the keynote lecture. His talk entitled, Nanostructured materials for sustainability and clean environment, will take place on Wednesday, May 23 in Room WI 1016 of Wilson Hall located at 40 Willcocks Street. The talk is open to the public and is FREE. Registration is required though. Click here to register.
Spring Cleaning on Thu, May 24
This is a reminder of ChemE's Spring Cleaning Day is on Thursday, May 24. A pizza lunch will be served in WB215 for participants. To get a sense of numbers, lab groups/offices must inform Mary Butera (mary.butera@utoronto.ca) of participants from their teams. Please inform inform her by 5pm on Tuesday, May 22.
LSCDS Industry Team Case Study Showcase on Thu, May 24
The Life Sciences Career Development Society (LSCDS) is hosting its Industry Team Case Study Showcase on Thursday, May 24 from 6:30-10pm in BA1160. To more information and to register, click here.
REMINDER: MEng project in bioprocess and waste treatment
Fundamentals of Electro-dewatering of Pulp and Paper Sludge: Investigating the Effect of Conductivity, is looking to recruit an MEng student for the summer. Interested MEng students should send their CV and copy of their transcripts (unofficial is fine) to Prof. Grant Allen (dgrant.allen@utoronto.ca) and Dr. Torsten Meyer (torsten.meyer@utoronto.ca).
May 18, 2018
Volume 35, Issue 18

In this issue:
CHEM ENG NEWS is a weekly summary of news, events and opportunities for students, faculty and staff of the Department of Chemical Engineering and Applied Chemistry. If you have questions or comments, please contact: external.chemeng@utoronto.ca. Catch up on missed issues by visiting our archive.