Announcements
Levente Diosady wins the 2018 Engineers Canada Gold Medal

Prof. Levente Diosady has received the 2018 Engineers Canada Gold Medal Award, the organization's highest honour, recognizing exceptional individual achievement and distinction in engineering. A world-renowned food engineer, Diosady has spent much of his career developing techniques for fortifying staple foods with micronutrients to improve human health. Read full story.
U of T Engineering honours its exceptional faculty and staff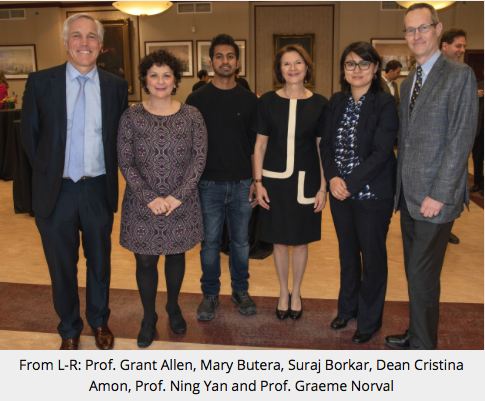 U of T Engineering faculty and staff gathered to recognize outstanding faculty and staff members for their leadership, citizenship, innovation and contributions to the Faculty's teaching, service and research missions at the 11thannual Celebrating Engineering Excellence reception. Among those recognized were Mary Butera, winner of the Agnes Kaneko Citizenship Award, and Prof. Graeme Norval, winner of the Sustained Excellence in Teaching Award. Read more about their achievements. Recognized at the pre-reception were Prof. Ning Yan who is the Faculty's new Distinguished Professor in Forest Biomaterials Engineering and PhD student Suraj Borkarwho won the Faculty Teaching Assistant Award.
Alumna named Officer of the PEO Order of Honour
A Professional Engineers Ontario (PEO) volunteer for more than two decades, Jeanette M. Southwood (ChemE 8T6, MASc 8T8) has been named an Officer of the PEO Order of Honour. She was inducted into the Order at a gala on Friday, April 20 in Toronto. Read more.
Young alumnus wins 2018 Sterling Award
Michael Burdett (ChemE 1T4) is the 2018 recipient of the G. Gordon M. Sterling Engineering Intern Award, which is presented annually by Professional Engineers Ontario (PEO) and recognizes leadership potential within the engineering profession. This is the second year that a ChemE alum has won the award. The 2017 recipient was Lorena Tere (ChemE 1T4).
REMINDER: Graduate Engineering Career Fair on Wed, May 2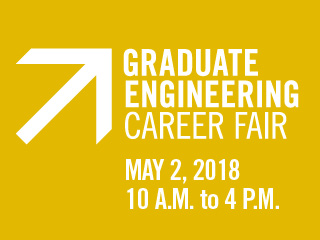 GRAD STUDENTS, on Wednesday, May 2 the Faculty is hosting the Graduate Engineering Career Fair in the Bahen Centre from 10am to 4pm. To learn more and register for the career fair, click here.
REMINDER: IWI Seminar on Thu, May 3
On Thursday, May 3 from 12-1pm in WB407, Professor Zhen (Jason) He from the Department of Civil and Environmental Engineering at Virginia Tech will be giving an IWI Seminar entitled, Resource recovery from wastewater using bioelectrochemical systems.
REMINDER: LSCDS Career Day on Fri, May 4
On Friday, May 4 the Life Sciences Career Development Society (LSCDS) will be hosting its signature Career Day, which provides a forum for up to 500 student attendees to explore career paths within a variety of industries, and to gain insight from, and network with successful professionals. The event will run from 8:30am to 5pm on the St. George Campus across various buildings. For more information, click here.
REMINDER: Student Life Catalyst Award accepting nominations
The Department is now accepting nominations for the Student Life Catalyst Awards, which seek to recognize deserving undergraduate and graduate students who are convocating for their significant contributions to the student life experience at ChemE. The deadline to apply is Friday, May 18. For full details, click here.
BioZone Symposium on Mon, May 14
The next BioZone Symposium will be held on Monday, May 14 from 1-5 pm in BA1160. The symposium will include presentations, a 3-minute thesis competition, and a poster session. Dana Philpott from the Department of Immunology will also be giving a talk entitled, Engineered bacterial strains to improve gut health through targeting NOD2. Snacks, coffee and pizza will be provided to all those who register online.
CEGSA Semi-Formal on Fri, Jun 1
This year's CEGSA Semi-Formal will be held at Hart House on Friday, June 1 starting at 6pm. Early-bird price is $40 for the first 30 people. Regular price is $50. Cost of admission includes dinner, dessert, dancing and an open bar! GRAD STUDENTS, refer to the CEGSA Digest for the registration link. FACULTY/STAFF, Jennifer Hsu will be sending out details on how to get a FREE ticket!
April 27, 2018
Volume 35, Issue 15

In this issue: